http://www.tao2000.net/fox/right.htm
[site no longer exists so  here's a link to it on archive.org
https://web.archive.org/web/20031213200332/http://www.tao2000.net:80/]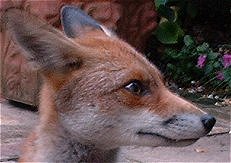 From the page:
"But see the next picture:
It was taken a long, long time ago,
using a special Fox Camera with a
ginger-beer bottle for a lens.
It's not a great picture,
but at least you can see
The Jub Jub Bird.
See how big it is!
Not all foxes have cameras.
That's why most foxes can draw well.
Be good to foxes and foxes will be good to you.
Don't be afraid of the Jub Jub Bird,
and there will be nothing at all to fear.
I am a fox.
I have a life, like you have a life.
You think I am beautiful,
but do you know how beautiful I think you are?
Jub Jub Birds know a lot of things
which they tell to all Foxes.
They say that when you see yourself
in everything you see,
and everything you see in you,
then you will be happy
and being happy, you will be a bit like
a Fox. "
This site is a bit 'twee' but enjoyable nonetheless, especially as I've seen a lot of a vixen and her cub in my garden recently.